As we navigate these unprecedented economic times, we have a unique opportunity to strengthen our community and create stability for our workforce. I invite you to work with my team and me at Caliber Home Loans as we roll out the red carpet to a better tomorrow.
As a life-long Omaha resident, I'm invested in building prosperity for everyone who calls the Omaha metro area home – individuals, families, and businesses alike. My professional experience in the mortgage industry spanning over 20 years, has given me a unique perspective on the importance of financial well-being to an individual's overall quality of life.
Benefits for Your Employees
In addition to valuable financial education, when your employees are ready to purchase a home or need refinance, should they choose to work with me, I'll roll out the red carpet to make the home loan process a breeze.

Individualized Reviews to Maximize Home Buying Power

Personal Assistance from a Dedicated Mortgage Banker
Competitive Rates & Flexible Terms

Referrals to Related Service Providers

Retained Servicing for Excellent Customer Service
Invest in Your Employee's Personal Success
I am excited to offer a new financial literacy initiative to businesses in the Omaha area to help them increase the financial literacy of their employees. These programs can be provided as free lunch-and-learns, seminars, and other workplace events. Offering financial literacy training can benefit your employees and your company. Year after year, research has confirmed a strong link between financial stability and productivity at work. Financially stable employees are more productive, more likely to stay with their current employer, more likely to afford unexpected expenses, and report lower stress levels. Financial literacy training can even help employees better understand and utilize their employer-sponsored benefits.
Program Perks for Employers
Provide an important financial & educational resource
Demonstrate in a highly tangible way that you're invested in your employee's success
On-site seminars for employees
On-site events, including employee benefit fairs
Streamlined employment and income verification process
No contract or cost to the employer
Whether you want to offer a home loan benefit to your employees or want to provide them with financial education, I'm here to help. Together, we can help your employees achieve their financial goals and increase their loyalty to your company.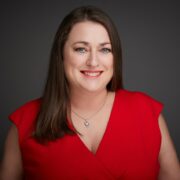 20+ years of Mortgage Experience
21 Recent 5-star Reviews
Millard North High School Alumni
University of Nebraska Omaha Graduate
Little White Dog Rescue Advocate
Big Brothers Big Sisters of the Heartland Volunteer
Suburban Rotary Club Member
Paul Harris Society Member of Rotary
Douglas County Court Appointed Special Advocate for Children